Yoga for Harmony and Peace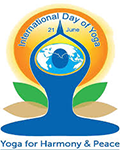 At IISER Bhopal, we have made a culture out of celebrating the International Yoga Day in a big way, right from the first edition. It has now become a tradition here to make it a week long celebration, culminating in the International Day of Yoga on the 21st of June. This year, we will have the Yoga week celebrations from June 15 - June 21. Yoga sessions will happen every morning from 6am - 7 am. Our team is working hard to organize the event, and to make it fun. All of the community is urged to participate with great fervour and make the event a grand success just like last year.
Location: The lawns outside LHC would be the location. In the event of rain, we may have to move indoors. We are making arrangements for nimbu paani and sprouts for all. This would be made available in the canteen, right after the yoga sessions.
Mats: Please bring your own yoga mats/blankets. We are making arrangements to have a large-scale mat to accommodate all; however, please do bring your own mats.
T shirts: Special T shirts are being made for the occasion. To earn your T-shirt, you must participate on all days of the Yoga week. Attendance will be taken. (Late) registration is still open.
Contests: There are going to be three contests:

a) Essay writing contest: The topic is `Making yoga a mass movement to create widespread well-being'. Entries in English and Hindi are accepted. Page limit: 2 pages of text with 12pt Times New Roman font (or equivalent in Hindi). Deadline for submission is: 19th June, 10 am. You may submit your entry by email to yoga@iiserb.ac.in.
b) Blog contest: Make a blog based on yoga as a theme. You can include text, and graphics, all of which must be original or suitably cited. Make it attractive, colorful, informative, fun, creative, while keeping to the integrity of the theme. Deadline for submission is: 19th June, 10 am. You may submit your entry by emailing the link to yoga@iiserb.ac.in.
c) Yoga Asana Competition: The best yoga performance would be evaluated on the International Day of Yoga, 21st June. In order to be able to participate in this, you must be present in all the sessions starting from 15th June, which will act as training.

`Many prizes to be won!'

The entire campus community is eligible and encouraged to participate in all the events.
On the 21st of June, a special Yoga Dance event is going to be organised this year. All the members of the community would be welcome to participate in a training program for this. There would also be a talk from a renowned expert on Yoga, to enthuse the community into making yoga a sustained practice.